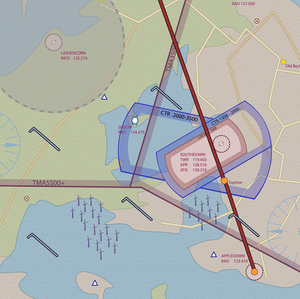 United Kingdom, VFR, PPL(A)
Module 6 , Advanced RT Proficiency.

Author: Max Couch, Qualified Flight Instructor & Examiner

In This module Readability 5 hopes to clarify who to call when flying either locally or on a more ambitious land away.

There are four services available outside controlled airspace: Basic,Traffic,Deconfliction and Procedural. 
For the average VFR flight, a basic service is all that is needed or offered. Air Ground does not and cannot offer a basic service. AFIS can, as does the controller of a CTA/CTR. LARS also provide a Basic service.
To initiate the call, the pilot would typically transmit: Farnfield Radar, this is G-BASC for basic service. A Traffic service may be requested but this often subject to the density of traffic, staffing levels and how appropriate the request is.
Included in this module you may find that the radio quality will become poorer in places. Not every Controller or Aircraft will have perfect radio reception.
This more advanced module will give you an insight of just how prepared the pilot must be when navigating busy and varied air space. You will have the opportunity to practice again and again with the Unique Readability 5 app.
Notes:
After checkout you will receive an email with sign in details.
You can begin the module immediately.
This module is licensed for 12 months use by one individual.
Readability 5 Modules have been developed to supplement pilot training with qualified instructors. Readability 5 is NOT designed to be used in isolation as the only source of training.